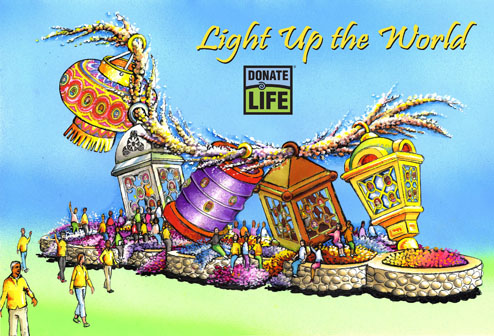 Emory Transplant Center patient Amy Tippins was given a second chance at life. This New Year's Day, she'll honor the family that saved her life in the 125th Tournament of Roses Parade. Amy, the recipient of a life-saving liver transplant, will honor that gift by riding the Donate Life Rose Parade Float.
This year's float, with the 2014 theme of "Light Up the World," honors donors, recipients and their families who have been involved with organ, eye or tissue donation, and hopes to serve as a platform for inspiring others to heal and save the lives of those in need.
Amy is so thankful to her donor and her donor's family, and has made it her life-mission to be a passionate advocate for organ donation. On December 17 at 11:00 a.m., Amy and other advocates for the cause will meet at the Georgia state capitol to put the finishing touches on decorations that will become part of "Light Up the World." Amy, along with her donor's family, will complete a floragraph of her donor's image composed entirely of flowers and other organic materials. The floragraph will then travel to Pasadena to be placed on the float.
Amy will be joined at the capitol by Emory Transplant Center surgeon and surgical director of the Paired Donor Exchange Program, Dr. Nicole Turgeon, along with additional members of the Emory Healthcare team, Children's Healthcare of Atlanta, Grady Health System, Columbus Regional Health, Donate Life Georgia, LifeLink Foundation, the Georgia Eye Bank and many others involved in the organ transplantation process in Georgia.
The event is open to the public. Please visit Donate Life Georgia's Light up the World Facebook page for details.
Related Resources: